The following is an excerpt from My Horse, My Heart: The Morgan Horses of the University of Connecticut by Helen Scanlon
book available on Amazon.com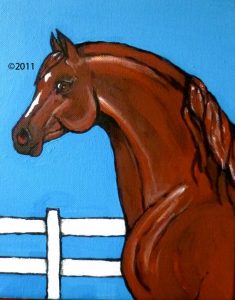 Portrait of Mentor, by Helen Scanlon
Mentor
Goldfield-Fairytop
Born: 1942
University of Connecticut Herd Sire from 1951-1962
We are indeed proud to have such an animal in our horse barn. ~1951 University of Connecticut Block and Bridle program
Figure, the original Morgan, was a prodigious stallion, passing on his sturdy conformation, stamina and handsome looks to his progeny. In 1942, Figure seemed to be born again in a colt by the stallion Goldfield out of the mare Fairytop.
This was Mentor.
Mentor, bred by the Government Farm, arrived at UConn in 1951 when the Government herd was dispersed. In addition to Mentor, UConn was given the mares Penny, Pennsy, Quotation and Sheba.
Mentor was a bit of a sensation when he arrived at UConn. He was a three-time National Champion and was considered by many horsemen of the time as possessing the "best form towards Morgan type in the world today." He was touted as "the last hope of the Morgans," to pass on his strength, brilliance and near-perfect classic Morgan conformation to the UConn herd and beyond. Mentor was a stunning equine specimen: his neck was thick with a clean throatlatch, his shoulder was sloping and powerful and his legs were sound and strong as steel.
Highly intelligent, well-mannered and stately with a rich, dark chestnut coat, Mentor sired many foals during his time at UConn, including Quakerlady, Riviera, UC Highlife and UC Senator.
Mentor left UConn in 1962 when he was sold to Mr. William Glenney of Coventry, Connecticut. Mentor remained gentle and kind in his golden years, and could sometimes be seen giving toboggan rides to delighted children across snow-covered fields. William Glenney loved his horse and provided the Champion with a comfortable retirement.
Mentor breathed his last at age 27. The stallion's body forever rests in that quiet, verdant land, less than twenty minutes away from the University where he left his proud hoofprints.
Afterword
In my research for this book, I received an e-mail that opened with these lines:
I owned beautiful gelding who came by way of the University of Connecticut breeding program. In 1963, my father bought Conquistador, sired by Mentor out of UC Pandora…
It is a rare and beautiful thing when research leads directly to the people who were touched by these Morgan horses of long ago. Intrigued, I asked the author of the e-mail to tell me more.
Much to my delight, I received a response almost immediately. The memories, including a scan of a faded black-and-white photo of UC Conquistador, filled my e-mail inbox.
In 1963, a 13-year-old girl by the name of Pamela was given the most wonderful gift a horse-crazy kid could ask for: a golden-maned Morgan horse gelding. Conquistador was, according to Pamela, "a giant in heart and personality." Pamela rode him saddleseat and showed in pleasure, equitation, in-hand and driving. "Conky" won Reserve Champion for in-hand at the St. Jude's horse show, where Pamela proudly recalls riding in the horse van with her winner, his head poking out the window as they journeyed home exhausted, proud and happy. Today, at 64, Pamela clearly remembers her horse show days with her chestnut gelding. She recalls the four leaf clovers her father picked for her to keep in her pocket and the blue carnations her mother stuck in her lapel, and her horse, ever steady and true, winning the ribbons and cantering effortlessly when all the other horses in the ring fussed and disobeyed. Conquistador stayed with Pamela until he was 16, and it is easy to see her transform into that proud 13-year-old girl as she writes about her horse:
I hope you can tell that this 64 -year-old lady back in the day was taken over by a marvelous fellow called "Conquistador."
The Morgans of UConn are so much more than the herd stallions and the broodmares. They are the foals that grow up to be Champions, teachers, partners and best friends. They are the horses that can elicit the joy of younger days, trotting in a dusty show ring under a summer sun, and walking out with a ribbon clipped to the bridle. There are trunkfuls of those ribbons, somewhere, each one holding a proud memory of that special horse: the UConn-bred Morgan.