Hello kind readers!
I must thank all of you for your patience… This book took a minute or two!
But here it is! Click the link to purchase:
The Great Red Horse: The Legacy
Why did it take so long for me to complete this final book in The Great Red Horse trilogy? I guess I just wasn't ready to say my final goodbye to my friend, UC Ringmaster. During our last visit back in 2012, I promised him I would write beautiful books for him to keep his memory alive. He nickered very, very softly to me as I spoke to him. He was so weak I could barely hear him. In his youth, Ring could nicker and whuffle with such vigor. He was so tired, but he still had the spark. Always a World Champion. A two-time World Champion, to be exact.
Tears streamed down my face as I told him I loved him. I knew I would never see him again. Then, I walked away from his stall for the last time.
One day later, he was gone.
I now realize that this book isn't a goodbye–it is my way to keep UC Ringmaster in our hearts.
I kept my promise.
I included all of his UConn-bred progeny in this new book, and well as my eulogy. At his memorial service, the wind noticeably picked up as I recited the words "I hear him in the gust through the flue." Yup, The Great Red Horse was there with all of us that day. Magic happens when you are still and your heart is open.
The ones we love may leave us on the physical plane, but they never truly leave us as long as we remember them. Love is always visible: just look up. They live among the stars.
With gratitude,
Helen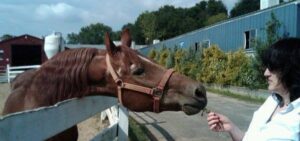 (Helen and UC Ringmaster share a fun moment. photo credit K. Jakowski, 2011)